Creative Directors: Javi del Río, Damian Coscia
Copywriters: Javi del Río, Damian Coscia
Production Company: Coolshotfilms
Director: Santi Winer
Sound Company: thelobby.es
Music: DJ Mustache
NO COMMENTS
After the gameplay trailer card produced by Goldtooth Creative, here the new advertising campaign of EA Sports at the time of play FIFA 11. Conceived by "Wieden+Kennedy Amsterdam" with the presence of Rooney, Karim Benzema and Giorgio Chiellini. To discover in video in the continuation of the article.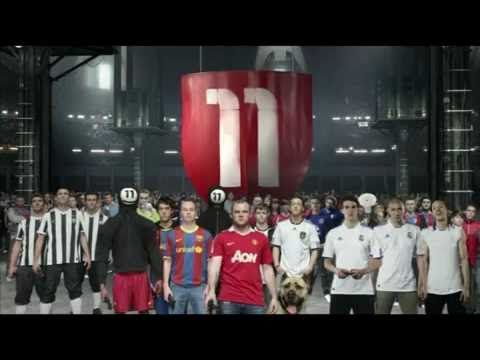 NO COMMENTS
An interesting series of posters by the artist Jerod Gibson by proposing best the expressions, quotations or dialogues of films and the famous series. A research of working typographical the most adapted to the visual one. More images in the continuation.
NO COMMENTS
An original idea with this transformation of the last nano iPod of the Apple mark, in a simple watch with bracelet. It goes to the wrist simply by using the function clock of the apparatus. The accessory is available for a price of 17 dollars.
NO COMMENTS
Staying Alive. Stay sober and you'll stay alive.
Every year, 6000 people get killed in road accidents caused by alcool abuse, especially on weekend nights.
The City of Nettuno invites you to drink responsibly.
Advertising Agency: Link, Anzio, Roma, Italy - Creative Director: Hilde Capra - Art Director: Valerio Cicco - Copywriter: Francesca Carpineti
Photographer: Domenico Apruzzo - Published: July 2010
NO COMMENTS
A very successful clip directed by the collaboration of Alex Takacs and Joe Nanki of the studio of production Young Replicant, based in Los Angeles. The whole for the artist Baths (Will Wiesenfeld) on the title "Lovely Bloodflow", extracted the Cerulean album. To discover in images and video in the continuation.
http://www.vimeo.com/14396311
NO COMMENTS
Splendid a short film entitled Little Big Berlin and published by Pilpop. A shooting of the town of Berlin, carried out with a Sony HC9 in technique tilt-shift, putting in scene the inhabitants and the architecture of the city. The whole on the tape its "Hungarian Rhapsody No 2" by Franz Liszt.
http://www.vimeo.com/14014317
NO COMMENTS
A collaboration between Nike and the shops Foot Locker which on sale presents this countryside "I Am the Rules" at the time of the setting of the new exclusive pair Air max 90 Colorway. A video direction successful by Alex and Liana, to discover in the continuation.
NO COMMENTS
Advertising Agency: Futatsu Industries, Oslo, Norway
Executive Creative Director: Aris Theophilakis
Art Directors: Frode Bjerved, Niri Bøyesen
Illustrator: Børge Brendenbekk
NO COMMENTS
Brazilian ad agency Moma has created an awesome set of fake vintage ads for Facebook, YouTube and Skype as part of the "Everything Ages Fast" ad campaign for Maximidia Seminars.
1 COMMENT